Medical Massage Therapy
Megan Kieres
My name is Megan and I have been a Massage Therapist for six years. I am a graduate of East West College of the Healing Arts. I specialize in deep tissue, relaxation, myofascial release and pregnancy. I am well versed in self care techniques and am dedicated to helping my patients find ways to improve their health through achievable goals. I have worked in many different environments, but have truly found my calling in a medical massage setting. Working with the incredible doctors here at Milwaukie Chiropractic Center has given me the tools I need to provide the best patient care possible. Whether you are coming in for chronic pain, injury, general maintenance or relaxation I know we can help! 
---
Jennifer Freiter
My career as a Licensed Massage Therapy began over 10 years ago. I have always found anatomy fascinating. I found my true calling and passion with massage therapy. My modalities or specialties are deep tissue, Swedish, myofascial release, and hydrotherapy. I love helping people heal and watching them progress to a healthy way of life. I love being able to help accident victims and people with injuries. I find my work very rewarding and I love coming to work every day knowing I make a difference in people's lives. I have lived in Oregon all my life. I love the outdoors, camping, hiking traveling with my two precious children and husband. I also am pursuing a career in nursing part time.
---
Bruce Matthews
Hi! My name is Bruce. My passion and endeavors include softball-coaching, and most sports, full body fitness and outdoor adventures with my family we enjoy traveling and music events.
The prime purpose of sports massage therapy is to help alleviate the stress and tension, which builds up in the body's soft tissues during physical activity.
Whether one is an athlete, or a desk jockey, minor injuries and muscle tension occur, due to overexertion and/or overuse. Massage aids in recovery and repair of these tissues. Above all, sports massage can help prevent those nagging minor injuries that so often get in the way of optimum performance and achievement. This treatment is not just for the athlete: anyone can benefit from sports massage, including people in physically demanding jobs and those not quite so obvious (occupational, emotional, and postural stress may produce many similar characteristics to sports injuries)
My experience includes 11 years of working in chiropractic settings along with participating as a staff therapist to the Portland Timber Soccer Club and with the 2012 Olympic trials in Eugene performing pre-event and post- event treatment massage on athletes. Me has experience with injuries such as rotator cuff injuries, whiplash, tendonitis, myofascial stress, and many other postural dysfunctions. I am dedicated to personal wellness and healthy living. My massage style combines gentle specific stretches with direct focused strokes to release areas of tension and dysfunction. I use techniques such as Myofascial Release, Thai, Sports Massage and Neuromuscular Therapy to restore optimum function and movement throughout the body. I view the body with the goal of symmetry and balance, which are essential to health and well- Being.
My family includes my spouse Jane to whom he has been married 40 years, and our four wonderful daughters Annie, Jill, Kelly, and Kristin, five grandchildren, and two awesome dogs Jake and Hazel.
---
Jennifer Primers
Hi, my name is Jennifer. My specialty is deep tissue therapy and really putting the focus on the areas of concern to bring your muscles back to a level of comfort you had before you were injured. The process is tough, but the progress is so rewarding. Other modalities and techniques like Swedish Massage, Myofascial Release and Trigger Point Therapy are also used.
Keith Dagenhart
I grew up in Harrisburg, Pennsylvania, but moved to the Portland area in 1998. I arrived with 10 years of experience in the healthcare industry and two years as a massage therapist—and a desire to expand my skills to help people achieve optimum health. I got my Oregon Massage Therapist license and started a long process of studying various healing modalities. In addition to standard massage, I now specialize in advanced techniques like craniosacral therapy, myofascial release, and gua sha. I am also a certified Reiki practitioner and an herbalist. With my diverse skills and 25+ years of healthcare experience, I can recommend the technique that works best for you—rather than using a one-size-fits-all approach. I'm a fan and practitioner of Filipino Martial Arts, which always reminds me of the importance of harmonizing mind, body, and spirit. I also enjoy walking and running, watching sports of all kinds, and the American Ninja Warrior TV show.
---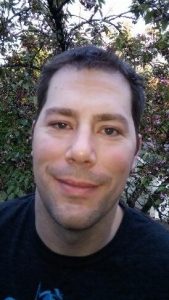 Zach Freiter
My interest in massage began 8 years ago. I just finished my college football career. I played for the Oregon Ducks from 1997 to 2001. I was a defensive tackle. I experienced 3 knee injuries that required surgery while playing. I had a lot of massage and therapy. This resulted in my interest in the field. I received my Bachelors of Science in Anthropology. I am continuing my education in Computer Science and Engineering at PSU currently. I enjoy helping people in their injury recovery. I have been working with accident victims since I began my career in massage therapy. I specialize in deep tissue therapy, Swedish massage, and Myofascial Release. In my free time, I love being on a river fishing for salmon and steelhead. I love traveling and relaxing with my kids, Hunter and Belle, and my wife, Jennifer.
---
Joseph Myers
Hi, my name is Joseph. Life seems to be a constant exercise in change efficiency. I got into massage therapy because I wanted to utilize transformative bodywork alongside the mentality and energy of a sound experienced mind. How that translates to massage for me is that every new massage can be a door opening experience to find healing and relief while still affording the luxury of creature comforts. We have all that here at Milwaukie Chiropractic Clinic, and I am glad to be a part of the experience with the ever present goal of providing energy and vitality into every massage. I come prepared to give my very best each day while retaining the knowledge that we provide the best continuous results over time and investment.
---
Roxy Lyon

Hello there, my name is Roxy, I have been a licensed massage therapist for over 8 years now.
I've worked a variety of fields but absolutely love medical massage.
I like to work in very thorough detail and with my patients to find what they need to heal and improve their quality of life individually.
If I'm not in the office, my dog and my family is my life and we love to backpack, camp, swim, kayak and play videogames.
---