Medical Massage Therapy
Amy Scott
My name is Amy Scott and I have been a Licensed Massage Therapist for over seven years. For six of those seven years, I have been working with Milwaukie Chiropractic Center. I went to East-West College of the Healing Arts here in Portland, OR, from 2006-2007. After a year of independent contracting, I began working at Milwaukie Chiropractic Center in the hopes of working with a larger more diverse part of the community. I am now the Director of the Massage Therapy Program that has grown monumentally over the last six years. I specialize in Deep Tissue Medical Massage Therapy. This includes a variety of techniques like Myofascial Release, Trigger Point Therapy, and Swedish techniques like friction, compression, and pinning and stretching. By releasing adhesions in fascia and microscopic muscle fibers, I can and will lower your daily pain and increase your range of motion. I educate my clients about what I am doing while I am working the muscles so you can visualize and understand why you feel pain.
In this last year, I have begun studying Biodynamic Craniosacral, which is a gentle modality that resets the rhythm in the cerebrospinal fluid, or our "liquid gold". I have also taken advanced courses in TMJ release. I use Thai massage on the table for all my pregnancy massages over 20 weeks to gently release the pain and pressure of pregnancy. We have Body Cushions available that contour for comfort for expecting mothers up to 20 weeks and for postnatal massage. I have also begun integrating doTERRA essential oils into my practice after learning the benefits of the Aromatouch technique. Please stop in and make an appointment as we now have extended evening hours Wednesdays and Thursdays from 6-9 pm!
---
Jennifer Freiter
My career as a Licensed Massage Therapy began over 10 years ago. I have always found anatomy fascinating. I found my true calling and passion with massage therapy. My modalities or specialties are deep tissue, Swedish, myofascial release, and hydrotherapy. I love helping people heal and watching them progress to a healthy way of life. I love being able to help accident victims and people with injuries. I find my work very rewarding and I love coming to work every day knowing I make a difference in people's lives. I have lived in Oregon all my life. I love the outdoors, camping, hiking traveling with my two precious children and husband. I also am pursuing a career in nursing part time.
---
Janet Garland
My massage career began 11 years ago when I entered Colorado Institute of Massage Therapy in Colorado Springs. (Yes, I got to walk to "The Garden of the Gods" every day.) I specialize in Swedish, Deep Tissue, NMT, Trigger Point Therapy, and Lymphatic Drainage (An excellent detox massage, also good for recovering cancer patients.). The ancient art of healing through massage has touched my soul. I look forward to working with each and every one of you. Before becoming an LMT, I taught emotionally-/behaviorally-challenged youth in middle school for 10 years. I spent the first 15 years of my adult life as a tennis pro (USTA ranking-510-1986). I enjoyed playing the flute and playing in Rose City Flute Choir. I also love the outdoors.
---
Julie Ness
My name is Julie Ness. I was born and raised in a small town in Montana. I spent my summers in Lake Oswego with my grandparents. So, Oregon has kind of always been a second home. Growing up I was involved in a lot of different sports. I also grew up on a ranch and did a lot of horseback riding. Sports and horseback riding resulted in quite a few injuries. My mother believed in chiropractic care and massage therapy to treat my injuries. So, sports massage and chiropractic care have been a big part of my life. I have been a massage therapist since 2007. I attended Oregon School of Massage, and I am currently back in school working towards my nursing degree. My main focus modalities include myofascial, trigger point therapy, deep tissue, and cupping. My goal is to provide a plan for my clients that helps increase their range of motion while reducing their pain, stress, muscle fatigue, and joint stiffness. I love helping patients who have been injured heal and get out of pain. That brings me the most satisfaction in my job. My hobbies include running, mountain biking, and horseback riding. I also love hanging out with my husband and our two crazy dogs! I look forward to treating you!
Keith Dagenhart
I grew up in Harrisburg, Pennsylvania, but moved to the Portland area in 1998. I arrived with 10 years of experience in the healthcare industry and two years as a massage therapist—and a desire to expand my skills to help people achieve optimum health. I got my Oregon Massage Therapist license and started a long process of studying various healing modalities. In addition to standard massage, I now specialize in advanced techniques like craniosacral therapy, myofascial release, and gua sha. I am also a certified Reiki practitioner and an herbalist. With my diverse skills and 25+ years of healthcare experience, I can recommend the technique that works best for you—rather than using a one-size-fits-all approach. I'm a fan and practitioner of Filipino Martial Arts, which always reminds me of the importance of harmonizing mind, body, and spirit. I also enjoy walking and running, watching sports of all kinds, and the American Ninja Warrior TV show.
---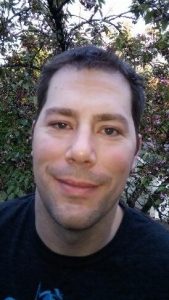 Zach Freiter
My interest in massage began 8 years ago. I just finished my college football career. I played for the Oregon Ducks from 1997 to 2001. I was a defensive tackle. I experienced 3 knee injuries that required surgery while playing. I had a lot of massage and therapy. This resulted in my interest in the field. I received my Bachelors of Science in Anthropology. I am continuing my education in Computer Science and Engineering at PSU currently. I enjoy helping people in their injury recovery. I have been working with accident victims since I began my career in massage therapy. I specialize in deep tissue therapy, Swedish massage, and Myofascial Release. In my free time, I love being on a river fishing for salmon and steelhead. I love traveling and relaxing with my kids, Hunter and Belle, and my wife, Jennifer.
---
Tammie Wilson
I know first-hand that massage can help the body heal. I discovered massage after being in an auto accident in February 2011. When I realized the benefits of massage treatment and how it could improve my life, I changed my career from financial to the medicinal field. I wanted to do something that could give the gift I received; I did this in the spring of 2013. I graduated from Everest Institute for massage in September 2014. I am trained in Swedish (relaxation), Deep Tissue, Hot Stone Therapy, Pregnancy, Therapeutic, and Table Thai massage. I am interested in furthering my knowledge to include Asian techniques and other modalities focusing on the neck, shoulders and back. I enjoy spending time with family, reading, listening to music, being involved in my church, cooking/baking, walking/hiking, sports, going to the beach, and dining.
---
Faren Nacoste

My name is Faren, I have been doing Massage for about 10 years now. I believe I'm an intuitive body-worker, first listening to you and your body, and following through with a massage that is designed for you and your individual needs; I never give the same massage twice. Many modalities find their way into the massage, designed to be as effective as possible. My massage finds its foundation in a soothing flow with nurturing touch integrating Swedish, Deep Tissue & Hot Stone techniques as necessary, to achieve a quality experience with every massage. My education background (East West College of Healing Arts) enables me to establish and facilitate body awareness, relaxation, and injury prevention for clients.
In my spare time I enjoy being with the love of my life Aliviah, my daughter! I also enjoy the outdoors & working in my coffee shop.
---
Andrea Burnham
Andrea spent her childhood growing up in the Pacific Northwest exploring the Oceanside and Gorge area on long hikes with her mother and family. During her senior year of high school, her mother accepted a job in Arizona working for Indian Health Services. She spent the last year of high school on the Hopi Indian Reservation — an incredible experience that will always remain part of her. After High School, she traveled to Eastern Idaho to attend college to study anthropology and spent several years there. She moved back to Oregon in the winter of 2006 to attend Oregon School of Massage.
Some of Andrea's training includes deep tissue, trigger pointing, scar release, sports massage, aromatic hot stone, aromatherapy massage, Thai and Shiatsu, and deep stretching techniques.
Her initial massage therapy studies focused on Pregnancy and Pediatric massage, but after gaining employment with an acupuncturist who insisted on therapeutic and deep tissue massage, her technique quickly evolved into a blend of deep tissue/trigger point work, myofascial/scar/adhesion release work, and deep stretching.
She has widespread areas of interest, including raising her two daughters, exploring Portland and outlying areas, rockhounding, research on aromatherapy, herbalism, and still dives into historical subjects. She also enjoys participating in a reenactment/living history group called the SCA, or Society of Creative Anachronism, and can often be found making items for her daughters to wear or use at these events.
She is now making preparations now to return to school to become a Certified herbalist/ Aromatherapist and hopes to finish with a license as an ND when all's said and done.
---